---
Properties / Open House
The mystery buyer of Dubai's most expensive villa has been revealed
Indian billionaire Mukesh Ambani purchased the Dhs280 million Palm Jumeirah property earlier this year…

Dubai lifestyle is known for the rich and famous but one luxurious property on Palm Jumeirah is flaunting exuberance at a whole new level, breaking a huge record by becoming the most expensive villa ever sold in the emirate.
The sprawling property is located on the north fronds of Palm Jumeirah, which just sold for an eye-watering Dhs280 million to Reliance Industries Indian billionaire Mukesh Ambani. The deal has been termed as one of the biggest ever-residential property transactions in Dubai.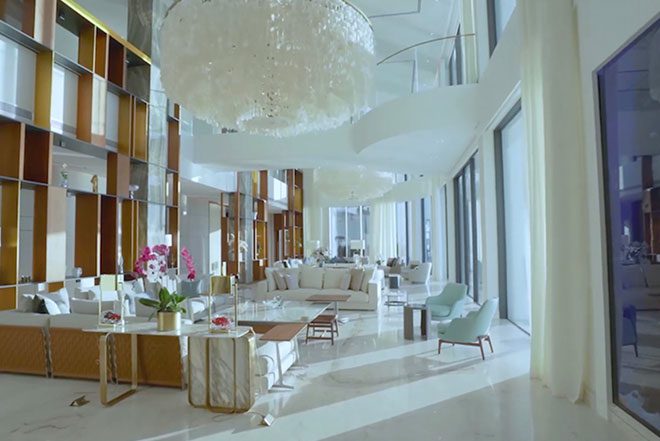 So, what does this multi-million dollar property get you? With an expansive living space of 33,000 square feet, the luxury villa has 10-bedrooms, its own spa, gym, hair salon and indoor pool, as well as Italian furnishings by furniture houses Giorgetti and Minotti.
The villa's outside space is just as impressive as the inside, with an expansive terrace, perfect for entertaining friends and family, as well as a luxe outdoor pool and 70-metres of private beachfront.
There's also a spacious roof terrace complete with a hot tub and enviable views of the Dubai skyline and Atlantis hotel.
The villa in question was sold by broker Conor Mckay of Bellview Real Estate who specialises in luxury properties.
Real estate platform propertymonitor.com verified that this Palm Jumeirah villa sets a new record for the highest value residential villa sale in Dubai.
Property Monitor's COO, Zhann Jochinke, says: "To see a transaction of this magnitude illustrates the ongoing strength of Dubai's property market particularly in the ultra-high-end segment.
"The transaction not only beats Dubai's previous record but closes the gap between Dubai's luxury market and those of leading global cities such as London, New York, and Hong Kong."
---