---
Dubai's Most Expensive Mansion Sold For AED 280M
This waterfront property in Dubai holds the record as the most expensive residential villa in the city, boasting 10 bedrooms, a private beach, a hair salon, and more. A custom-built residential villa was recently sold for AED 280 million (US$76.2 million) early this month, setting a real-estate record as the most expensive property in the […]
This waterfront property in Dubai holds the record as the most expensive residential villa in the city, boasting 10 bedrooms, a private beach, a hair salon, and more.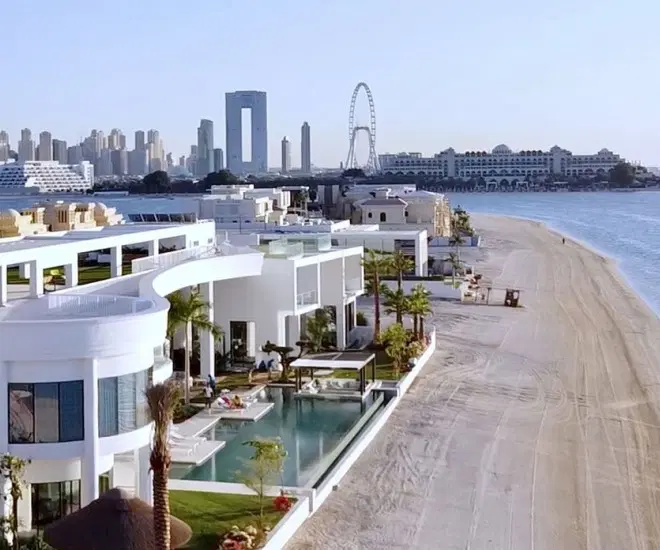 A custom-built residential villa was recently sold for AED 280 million (US$76.2 million) early this month, setting a real-estate record as the most expensive property in the 'City of Gold'.
The property was managed by listing agent Conor McKay of Belleview Real Estate. Sold by the award-winning luxury real estate broker, the sale price of the mansion was around 33 percent more than the previous record of AED 185 million (US$50.3 million) set in 2015.
https://www.instagram.com/p/CbreKFNoLf0/?utm_source=ig_web_copy_link
Zhann Jochinke, COO of Dubai-based real estate platform Property Monitor, stated that a transaction of this magnitude depicts the ongoing strength of Dubai's property market, especially in the ultra-high-end segment.
"The transaction not only beats Dubai's previous record but closes the gap between Dubai's luxury market and those of leading global cities such as London, New York and Hong Kong," said Jochinke.
Standing proudly on Palm Jumeirah by the waterfront, the massive megamansion spans 33,300 square feet and boasts ten bedroom suites. There are indoor and outdoor pools, a seven-star spa, a personal hair salon, and 70 metres of private beach. Adding on to the property's luxury and grandeur, the megamansion also has endless amounts of state-of-the-art living spaces, all finished to the highest possible specifications.
McKay told Mansion Global that the megamansion is the only villa on the artificial island that offers an indoor swimming pool. Moreover, the property features a gym, sauna, cinema, wine cave, an aquarium, and a vast rooftop terrace with a hot tub.
The residence's interiors have imported and hand-selected marble throughout, which was supplied by Italian furniture houses Giorgetti and Minotti. The finest grade A, book-matched slabs can be seen in the spa area and the bathroom of the primary bedroom suite, including several seating areas and a large dressing room.
According to McKay, Dubai has experienced a robust market since the start of Covid-19. More sales of homes priced above US$10 million were made in the first quarter of 2022 than in any other year since 2015.
For more property reads, click here.
---