---
Properties / Interior & Design
Fashion Brands Show Off Their Furniture Design Chops at Salone 2023
From Fendi Casa to Hermes, we take a peek at the wonderful designs from the fashion and furniture world during Milan Design Week 2023.
Four renowned fashion brands debuted their new objects during Milan Design Week 2023 held during the same time as Salone del Mobile 2023. From sofas with opulent looks clad in special skins to taking inspiration by looking to the past, there were many fantastic and original designs. We take a peek into the wondrous world where fashion and furniture work cohesively.
Fendi Casa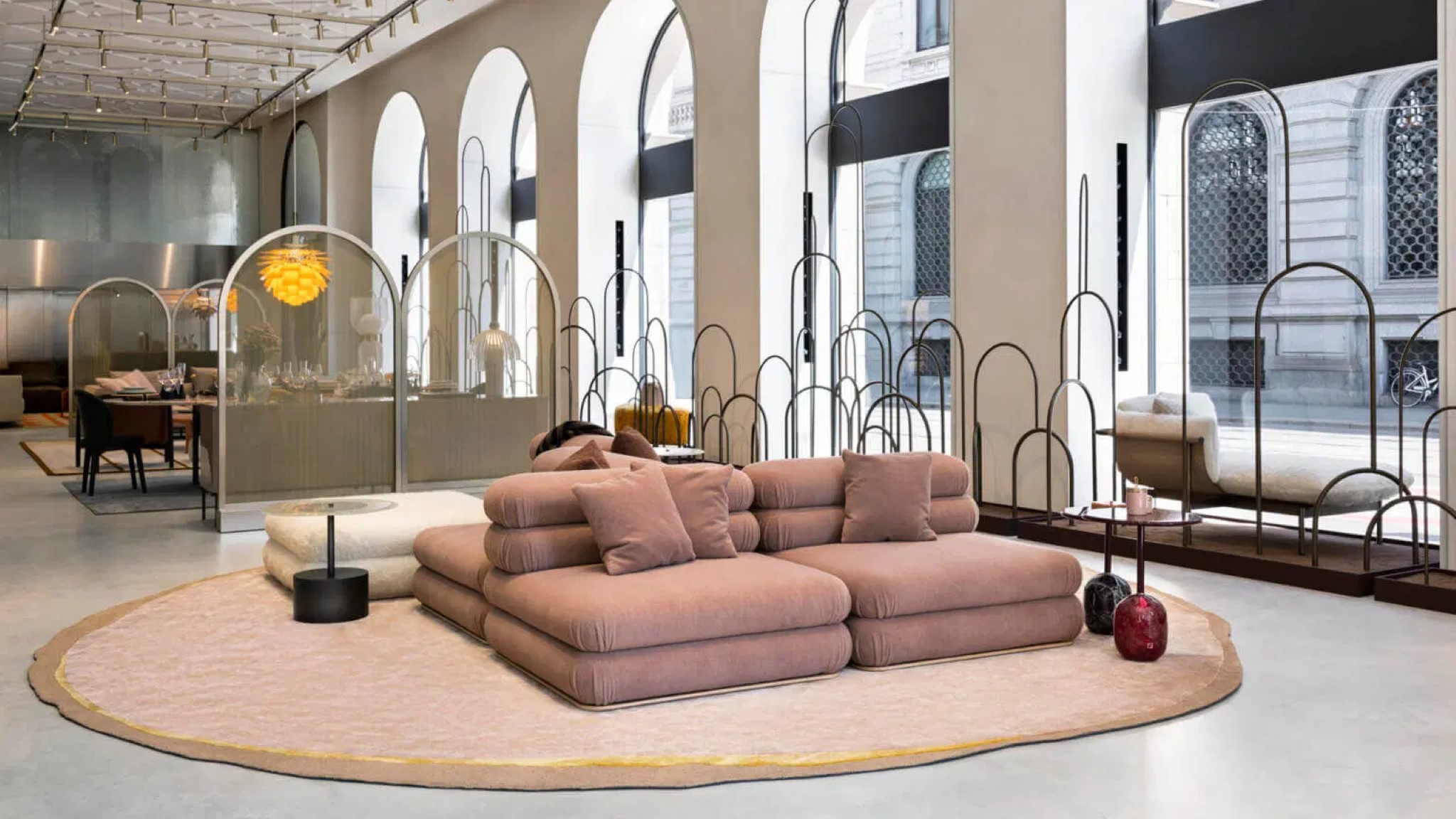 Fendi Casa 2023 at Piazza della Scala in Milan. Image: Silvia Rivoltella.
Held in the glamourous Piazza della Scala in Milan, for its new goods for Milan Design Week, Fendi Casa enlisted the best in the design world. Cristina Celestino was once again tapped by the Italian publishing house to create a chair that was influenced by Rome's historic buildings, particularly the design and recognisable arches of the Palazzo della Civiltà Italiana, the company's headquarters. In addition, an unprecedented partnership with Louis Poulsen has given birth to iconic Poul Henningsen designs like the PH and the Artichoke, which have been given stripes and an aged brass finish for the first time.
Since 2016, when she designed her Happy Room at Fendi for Design Miami, Italian designer Cristina Celestino, a longtime partner with Fendi Casa, has been adding eye-catching pieces to the Italian homeware company's inventory.
The 'Ottavia' chair, her most recent creation for the company, was unveiled at Milan Design Week 2023 in conjunction with Salone del Mobile 2023. It draws design cues from the Roman landscape and connects with the city's streets, monuments, architecture, and colour scheme.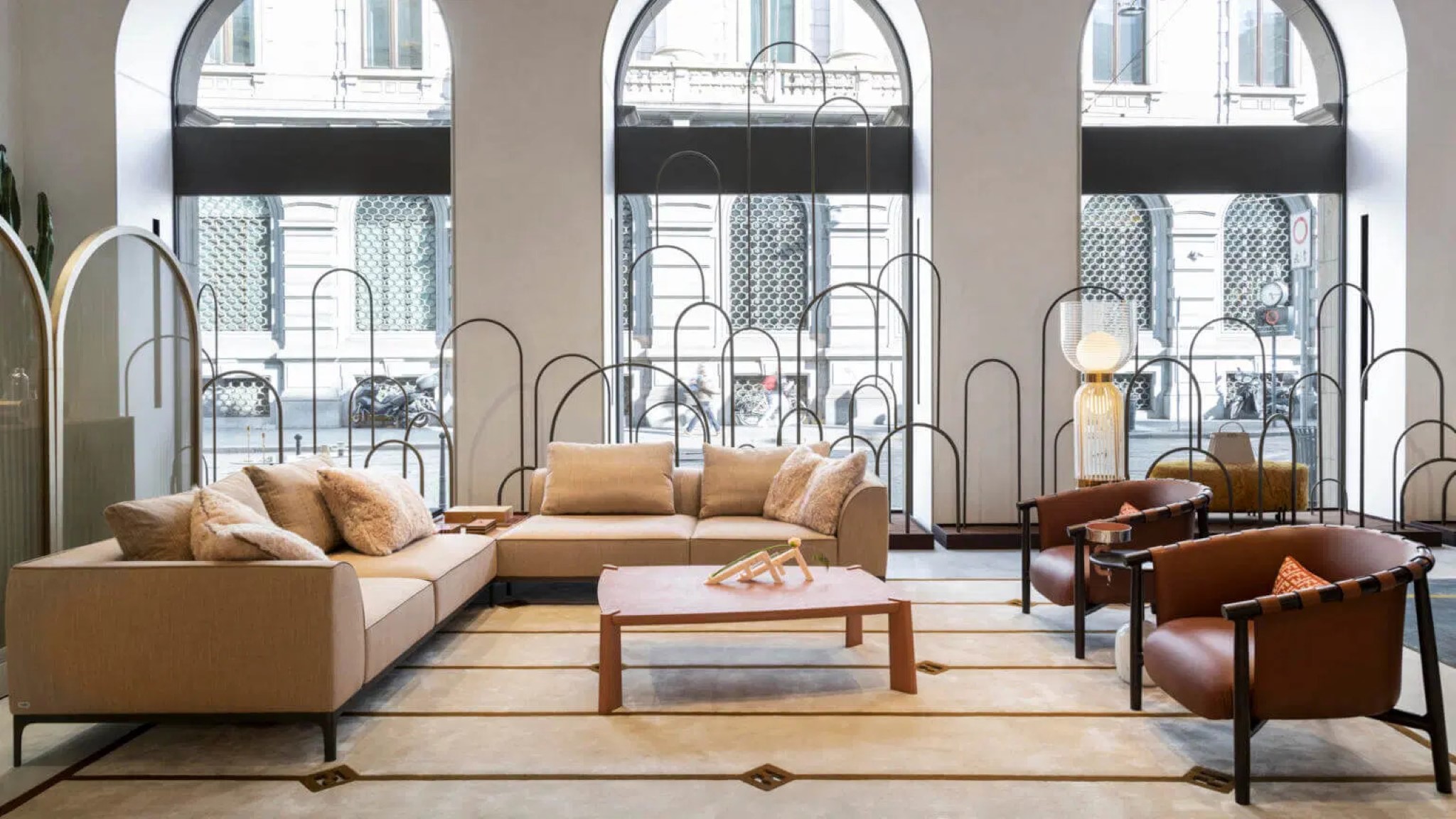 Opulent touches seen at Fendi Casa 2023 at Piazza della Scala in Milan. Image: Silvia Rivoltella.
Her chair design incorporates a rounded back that provides comfort and sophistication in equal measure, echoing the arches of Rome, one of the city's iconic architectural features and being symbolic of Fendi's landmark HQ, the Palazzo della Civiltà Italiana, a six-storey travertine-clad cube punctuated by 216 arches. The chair is composed of stained wood to highlight the grain and is available in yellow micro bouclé, pink velvet, or grey bouclé. It is a wonderfully contemporary homage to Fendi's history.
In addition, the unique cooperation between Fendi Casa and the Danish lighting company Louis Poulsen honours both companies' common dedication to creativity, workmanship, attention to detail, and design sensibilities. The collection featured five pieces of Poul Henningsen's renowned PH lights that had been updated with Fendi's style, colour scheme, and patterns.
"Ottavia" chair by Cristina Celestino. Image: Fendi Casa.
"Icaro" dining table by Dimorestudio. Image: Fendi Casa.
"Magareth" armchair by Fendi Casa Design. Image: Fendi Casa.
"Sumo" coffee table by Fendi Casa Design. Image: Fendi Casa.
The five-piece collection, which spans ceiling, table, and floor lights, is drenched in soft yellow, brown, and Fendi's recognisable pequin design. "This collaboration highlights Fendi Casa's ability to reinterpret historical heritage with a profoundly contemporary spirit, while fostering the values of authenticity, uniqueness, and desirability that have always characterised the Maison," says Alberto Da Passano, CEO of FF Design.
In a similar vein, Sren Mygind Eskildsen, CEO of Louis Poulsen, expresses his happiness, saying that they are "proud to be partnering with Fendi Casa to create this new collection that merges our signature styles while honouring the heritage of both our brands."
Dior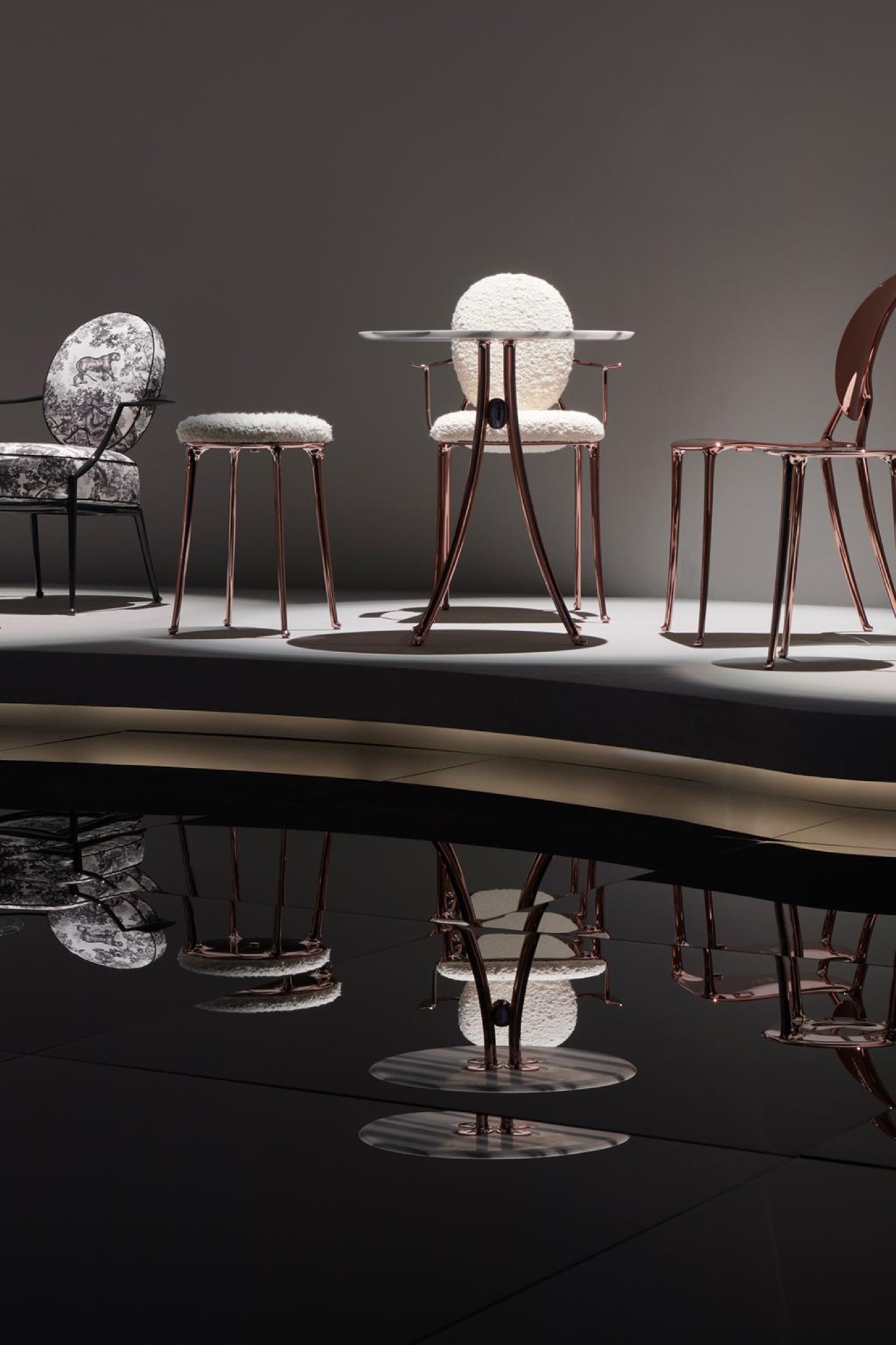 Monsieur Dior chair by Philippe Starck. Image: Adrien Dirand.
For the second consecutive year, Philippe Starck and Dior Maison create a masterpiece for Salone del Mobile 2023. He claimed that "after Miss Dior, unveiled in 2022 — the chair inspired by the iconic Medallion — it was natural to expand the family with Monsieur Dior, this new armchair," which became the focal point of a line of classic, opulent furniture.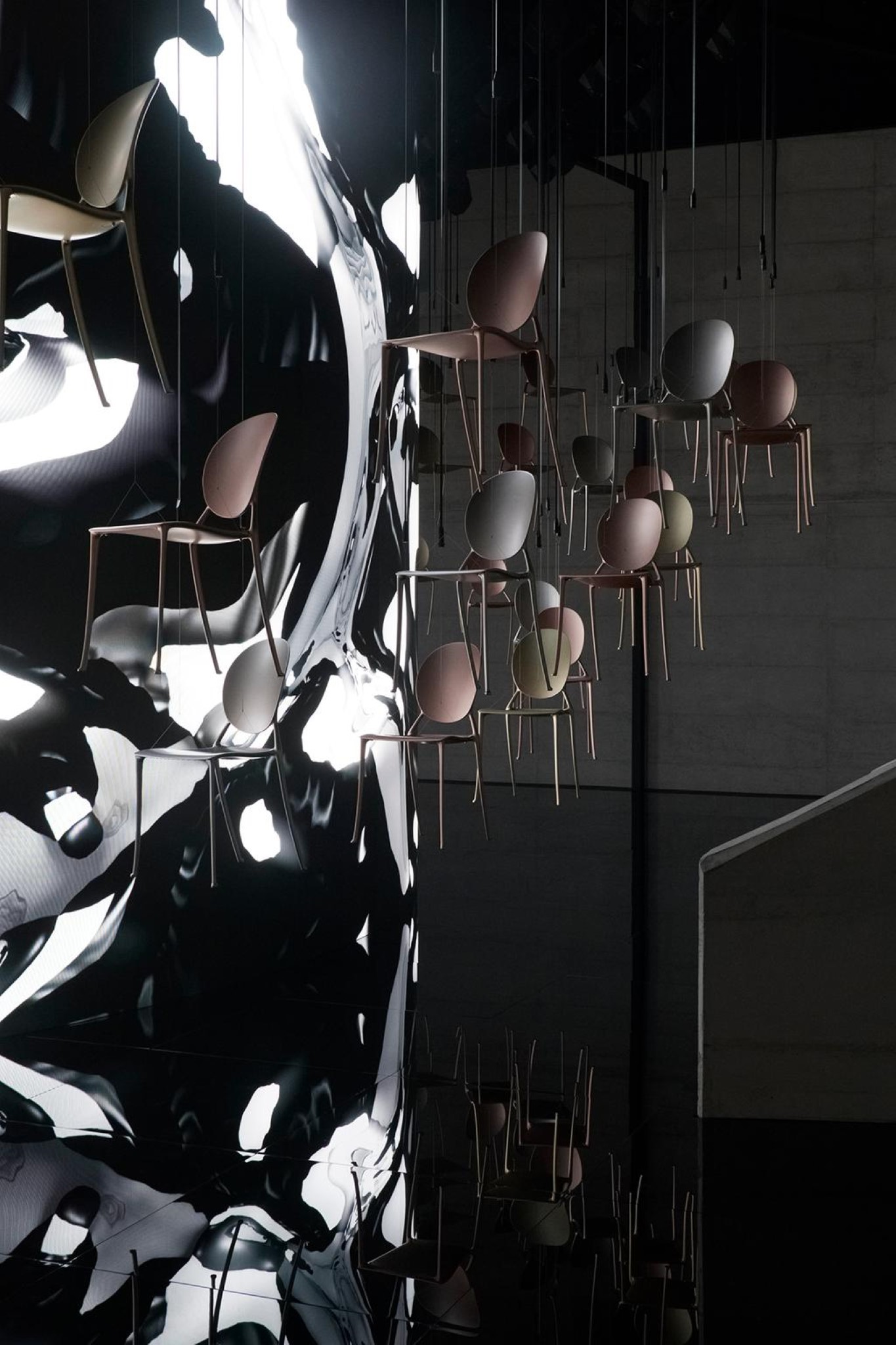 Dior setup at Salone 2023. Image: Adrien Dirand.
 The exceptional pieces, which are displayed in various materials and colours and surrounded by the most extensive collection of furniture ever made for the House, create an exclusive dialogue between Dior and the widely acclaimed French designer with the emblematic figure of the couturier in mind. Held in the cavernous Palazzo Citterio in Milan, the world of Dior Maison allowed visitors to experience the Monsieur Dior armchair firsthand. The chair can be made from a wide variety of materials and colours such as polished or lacquered aluminium, ecru bouclé fabric, and pink, black, or fluorescent orange toile de Jouy.
Hermès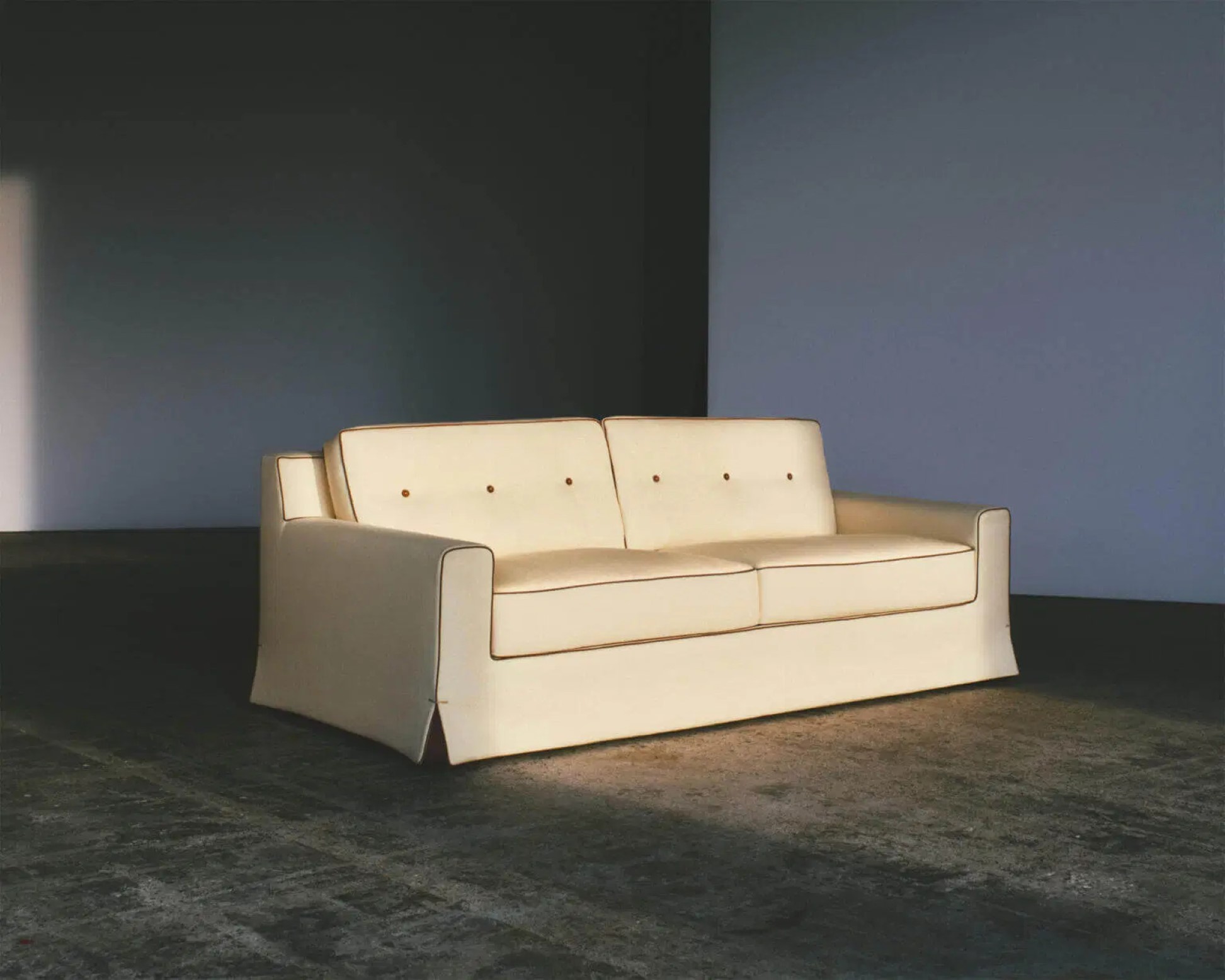 Contour d'Hermès sofa. Image: Hermès.
 The renowned French maker of luxury goods, Hermès, debuted a spectacular new installation at the Milan Design Week in 2023 to display their new home line. The exhibition's focal point was a sizable installation made out of iron rods that was created by British architect Alison Brooks.
According to Brooks, the concept behind the display, dubbed "Through the Looking Glass," was to provide guests with an immersive experience that would let them explore the fine elements of Hermès' newest home line. Visitors were encouraged to explore the area and find the collection's numerous components since the iron rods were positioned to mimic a maze.
The exhibit also paid homage to Hermès' long history of meticulous craftsmanship. Each iron rod was expertly manufactured and placed by hand, giving the room a sense of organic movement and flow. The end result was a breath taking visual display that emphasised the richness and elegance of the Hermès brand.
The exhibition included a variety of furniture, lighting, and decor items from Hermès' new home collection in addition to the installation. Each item was painstakingly made from the best materials, demonstrating the brand's dedication to high quality and classic style.
Concervatoire dining chair by Jasper Morrison. Image: Maxime Tetard.
Saut Hermès Porcelaine tableware by Cecilie Manz. Image: Maxime Tetard.
Ancelle d'Hermès armchair by Cecilie Manz. Image: Maxime Tetard.
Cordelie Oxer Rug. Image: Maxime Tetard.
There were notable furniture objects designed by Jasper Morrison and Cecilie Manz — the Conservatoire dining chair and the Ancelle d'Hermès armchair, respectively. The dining chair is inspired by the angular, geometric look, sheathed in leather by Hermès in the 1930s. Morrison designed the legs to be slimmer and revised its proportions. The exceptional leather sheathing work — seat and backrest — has been faithfully replicated by its artisans. On the other hand, the Ancelle d'Hermès armchair designed by Danish designer Cecilie Manz offers a powerful frame in solid wood while a sheet of leather creates a light and elegant seat.
The new home collection included items in a variety of designs, from conventional and classic to contemporary and minimalist. Each item was created to be adaptable and versatile, enabling consumers to establish an environment that mirrored their unique tastes and styles.
Overall, the "Through the Looking Glass" installation and Hermès' new home collection showed the company's dedication to excellence in design and innovation. Hermès continues to set the bar for opulent goods and interior design with an emphasis on fine craftsmanship, meticulous attention to detail, and timeless elegance.
Roberto Cavalli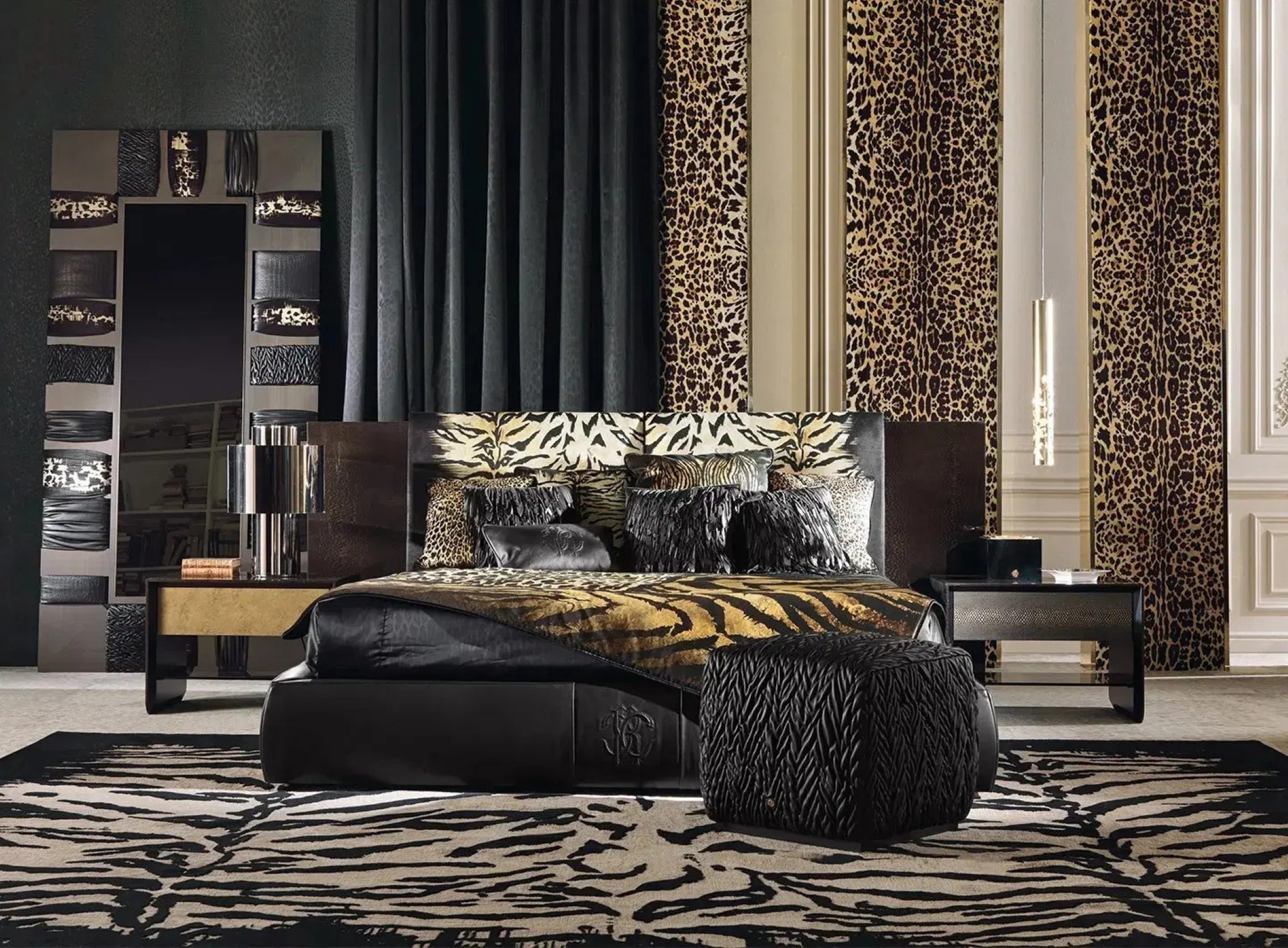 Malawi bed. Image: Roberto Cavalli 2023.
The most important lines from the Roberto Cavalli Maison were honoured in the Roberto Cavalli Home Interiors collection. A blend with a radically unique charm, true to the brand's DNA and philosophy, and capable of fusing style and design with glitz and sensuality.
Roberto Cavalli Home Interiors is influenced by the recognisable prints and patterns of the most iconic collections of the fashion house: a galaxy of vibrant colours, precious textures, and lovely patterns, mixing and overlapping bold animalier prints and softer embroideries, sculptural shapes and irregular lines, urban taste with natural elements, such as rocks, flowers, and lush jungles. To create opulent, dramatic settings that serve as the hallmarks of a culture, great care and consideration are put into the selection of valuable materials.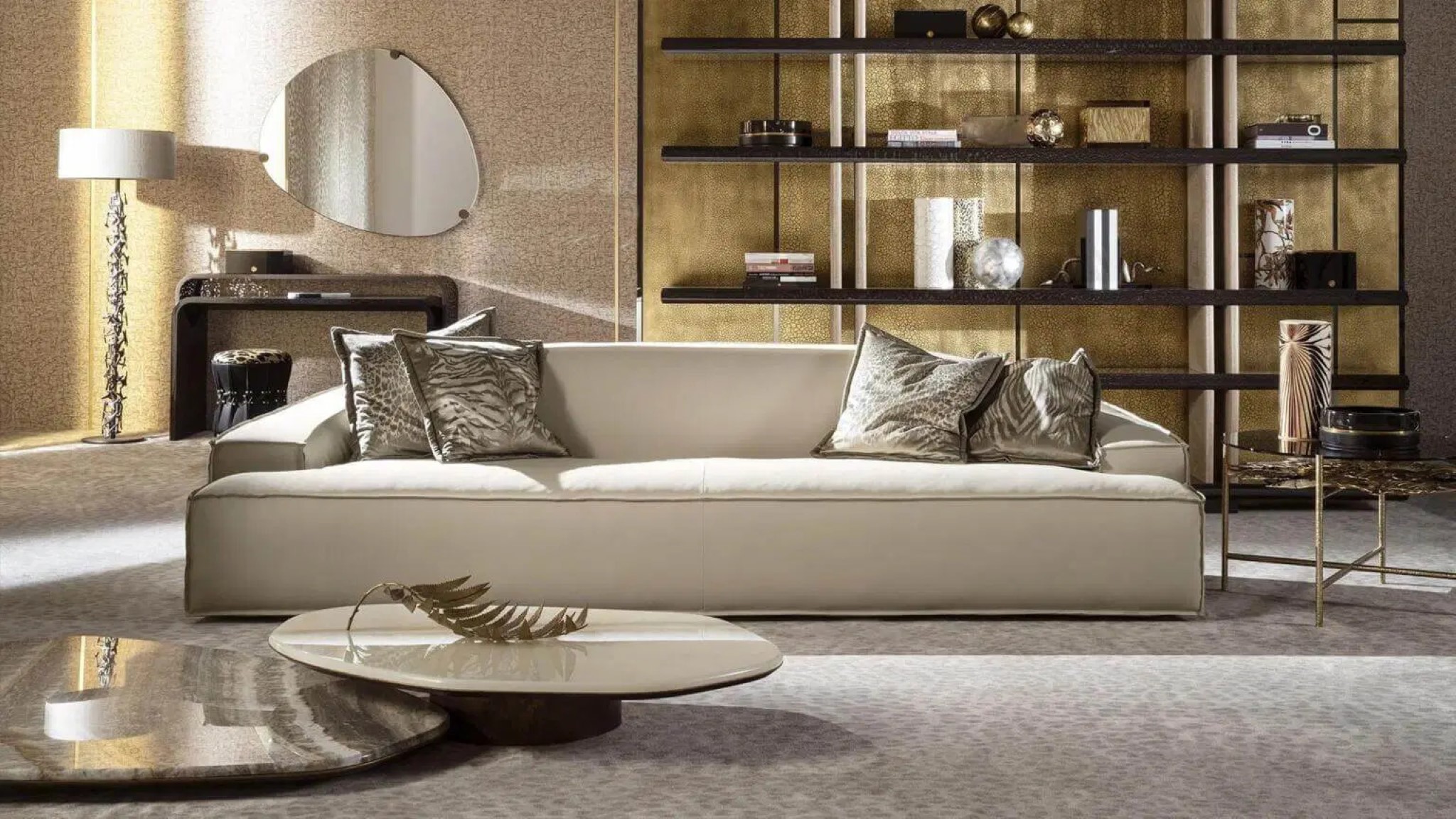 Assal sofa. Image: Roberto Cavalli.
Notable in the collection is the Dahlak modular outdoor sofa where alluring lines and a welcoming aesthetic turned heads.  The sofa, which has a sizable and comfortable seat, showcases the trademark themes of the Roberto Cavalli Home Interiors line, including the bold, geometric shapes of contemporary inspiration and the blending of fabrics with various animal patterns, such as giraffe, zebra, and jaguar, in a sophisticated and classic black and white scheme. It is possible to create a haven of comfort and relaxation on the terrace or in the garden since the use of outdoor materials ensures optimum resistance to the effects of the weather.
---