---
Fashion & Style
Cara Delevingne honours Karl Lagerfeld
A new capsule collection celebrates the bond between Karl Lagerfeld and Cara Delevingne…

The close friendship of Karl Lagerfeld and model Cara Delevingne has inspired a new collection of clothing and accessories that celebrates sustainability and confidence in your own look.
Launched in a series of pop up shops around the world, with the help of a groundbreaking video campaign, the Cara Loves Karl capsule collection was one of the fashion industry's most talked-about launches of FW22.
The gender-neutral collection comprises ready-to-wear pieces made from sustainable and premium materials in inclusive sizes from XXS to XXL. Some of the signature looks are transformable pieces that offer a variety of styling options in one garment while timeless tailoring can be seen in suits, shirts, gilets and blazers.
Accessories, meanwhile, include a bumbag, satchel, beanies and belts constructed from environmentally conscious materials such as recycled nylon and organic cotton.
Temporary stores in Milan, Los Angeles, Paris, and New York helped to launch the Cara Loves Karl collection while a giant 3D screen in New York's Times Square played a video of Lagerfeld and Delevingne interacting as avatars, a digital first for the fashion business.
Delevingne said she was "so proud" of the range, adding, "Karl was, and still is, an extremely important influence in my life and I'm honoured to have created this collection under his name. I believe that Karl would have been very proud of the sustainable, genderless direction we went with, and I like to imagine he even would have worn some of the pieces himself."
Hun Kim, design director of Karl Lagerfeld since 2015, said, "Karl always said everyone should wear what they want and mix in their own way, and the collection shows that clothing doesn't need to have a gender assigned to it." He explained the collection was aided by Delevingne's input. "Our design process with Cara was extremely collaborative, and it was inspiring to hear her share her stories, ideas and anecdotes. We share a singular vision: clothes should build confidence, respect the planet, and look great — no matter who you are."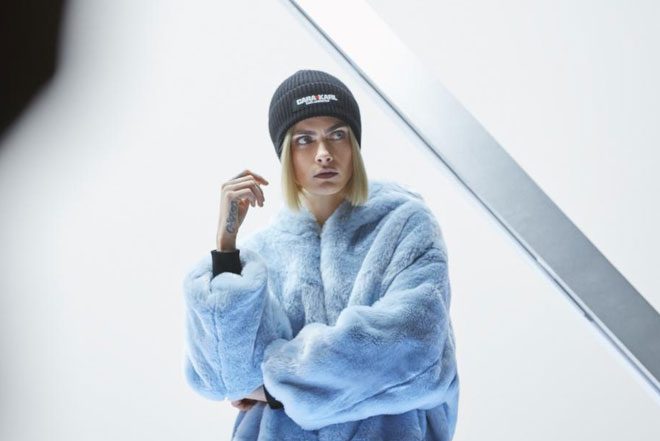 Lagerfeld and Delevingne had a "trusting bond" according to Pier Paolo Righi, CEO of Karl Lagerfeld. "This is our most significant brand collaboration to date," he explained. "It embraces the values that Karl and Cara shared together — especially the courage to be your true self."
The fashion world paid heartfelt tributes to Lagerfeld and praised his legacy after his death in Paris in February 2019. One of the most innovative designers of all time, he was brought in to transform Chanel in 1983, 10 years after the death of Coco Chanel. He was known for his acerbic wit, tireless work ethic and his trademark look of dark glasses, black gloves and white ponytail. Delevingne recalls meeting him for the first time at a Chanel show and being "blown away by his kindness and generosity." One of the key lessons she learned from the German designer, she explains, was "the importance of embracing your weirdness."
To discover the collection, visit karl.com/en/caraloveskarl.
---