---
Properties / Hotels
Lamborghini opens a pool club in Dubai
The Palm Dubai welcomes Tonino Lamborghini Mare Nostrum Skypool to its alfresco lifestyle haven…

When a brand like Lamborghini opens a pool club, you know it will be packed with panache while sparing no expense in its attention to detail. And when that club is opening in Dubai, a hotbed of luxurious outdoor venues, well, you know it's going to be pretty special.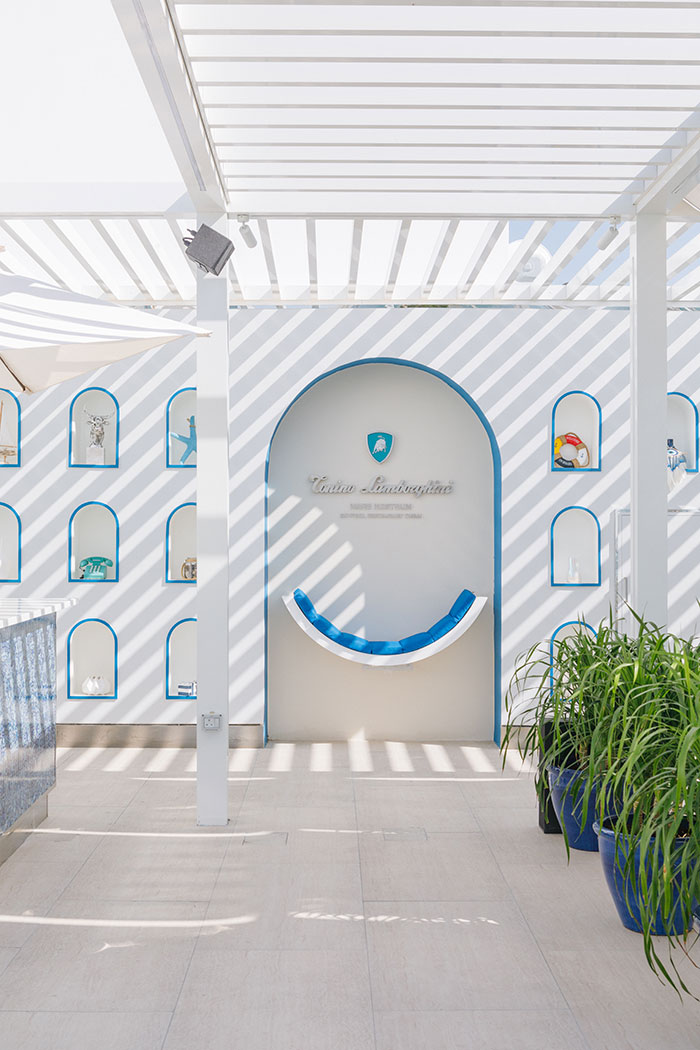 Tonino Lamborghini Mare Nostrum Skypool has opened on the 14th floor rooftop of the new Radisson Beach Hotel on the Palm West Beach development. This bustling 1.6km beachfront boardwalk of restaurants, cafes and bars on the iconic Palm has become Dubai's coolest stretch of alfresco lifestyle since its launch in late 2020.
For non-Italian speakers, Mare Nostrum means 'our sea', which is where the venue draws its inspiration from, specifically the Mediterranean. The goal of the rooftop club is to bring the sophisticated yet laidback Italian lifestyle to the UAE and is the brainchild of Tonino Lamborghini, the 76-year-old heir to the Lamborghini sports car empire. In 2001 the entrepreneur entered the hospitality sector and created a series of branded lounges and cafes, the latest of which – Tonino Lamborghini Mare Nostrum Skypool – is now open for business in Dubai.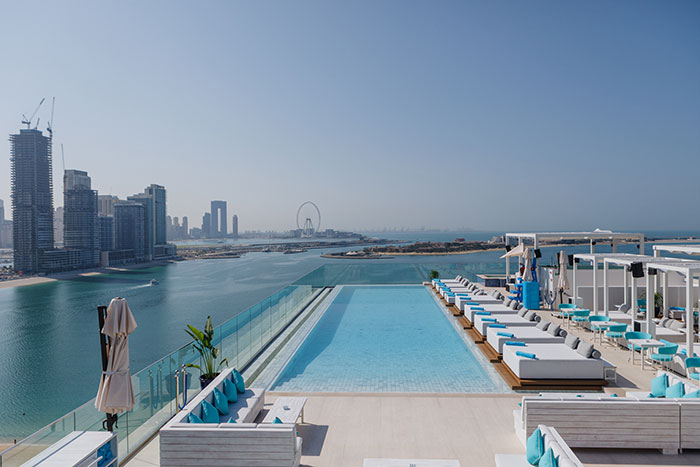 The venue has a three pronged offering for Dubai's VIP party crowd: pool, restaurant and club with an emphasis on the day-to-night transition that is such a popular part of the city's social scene.
The menu covers all the Mediterranean classics plus a few blockbuster dishes such as a platter of oysters, caviar, and a show-stopping T-bone steak with crunchy fries. The burrata accompanied by juicy red tomatoes is a popular choice, as is the board of cold cuts and cheeses, while – for Insta foodies – a rum baba dessert served with flaming rum poured on top is a must-click moment. Tonino Lamborghini Mare Nostrum Skypool is the sort of high-end place where truffle is liberally applied to dishes. Over in the bar, a talented team of mixologists experiment with flavours and techniques to create a memorable cocktail list for those who want to live la dolce vita.
Entertainment comes in various forms. Every Thursday, musician Mark Zitti entertains the crowds with a rousing evening of Italian swing and jazz. On Friday evenings from 4pm to 8pm, meanwhile, the restaurant invites guests to partake in the beloved Italian ritual of aperitivo. Sunday is luxury ladies' day, offering a food and drinks package for AED 199 from noon to 7pm.
With its chic white beds and turquoise towels, the pool at the club is a major draw and stretches out into the distance of the Arabian Gulf, with Ain Dubai, Bluewaters and Dubai Marina on the horizon in one direction and the world-famous Burj Al Arab and Burj Khalifa on the other.
The pool is not meant for swimmers wearing goggles and counting laps, it's a place to dip in and cool down while ordering another cocktail to your cabana. A few infinity Jacuzzis offer the chance for guests to enjoy the sea views and sunset with a chilled soundtrack from top DJ talent in the background.
A pool day pass during the week is AED 200 and AED 250 on the weekend, AED 150 of which is redeemable on food and drink. A plush sofa cabana that fits eight people carries a minimum spend policy of AED 4,000, while the luxurious VIP cabana that accommodates 10 people requires a minimum spend of between AED 6,000 and 8,000.
The competition among pool and beach clubs in Dubai is fierce, but with the iconic Lamborghini car brand behind it, you get the feeling Tonino Lamborghini Mare Nostrum Skypool is most definitely in the driving seat.
For more information, visit tlamborghini-marenostrum.ae
---