---
Watches & Jewellery / Jewellery
Dubai welcomes the largest white diamond ever auctioned
The historic gem sold for more than $20 million this summer…

When a diamond is so large that it is given a nickname also belonging to a bodybuilding movie star, you know it must be a sizeable gem.
The Rock, as it is affectionately known, is a pear-shaped white diamond measuring an astonishing 228.31 carats that went on display in Dubai earlier this year before embarking on a global exhibition tour to Taipei and New York and culminating in a momentous auction in Europe.
The largest white diamond ever auctioned, The Rock sold for $21.9 million in May 2022 at Christie's in Geneva as part of the auction house's Geneva Magnificent Jewels sale. It beat the previous record for a white diamond at auction, which was a 163.41 carat piece sold at Christie's Geneva in November 2017 for $33.7 million.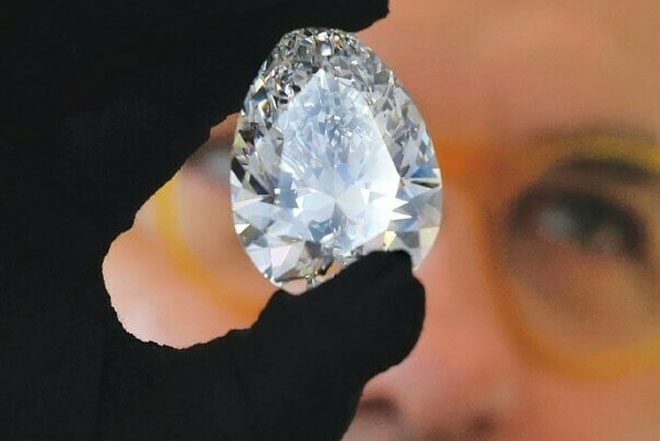 Rahul Kadakia is the International Head of Jewellery at Christie's and explained why the house chose to begin the gem's world tour in the United Arab Emirates. "We thought it would be nice for us to launch the diamond in an area where there are so many great collectors for important gems of this nature," he said. "The Middle East has always had such a great appreciation for important jewels and gemstones."
Kadakia added, "The Rock will join the very best of legendary gemstones which have passed through Christie's global sale rooms since 1766."
The rare and impressive stone was mined and polished in South Africa more than 20 years ago. The Gemological Institute of America said it is the largest existing D-Z colour pear-shaped diamond ever graded by the laboratory.
Although large, The Rock is not the largest cut white diamond that exists. That honour belongs to the Cullinan I diamond, which measures 3,106.75 carats. Also known as the Star of Africa, the huge gem was recovered in South Africa and sits in the gold sceptre of the late Queen Elizabeth II. The Cullinan I diamond was gifted to the British Royal family in 1907, who cut it into several stones. Queen Elizabeth held the sceptre at her historic coronation in 1953.
---