---
Watches & Jewellery / Watches
Rolex Oyster Perpetual GMT-Master II "Lefty"
The Rolex Oyster Perpetual GMT-Master II gets an upgrade for southpaws, paving the way for more such variants in future?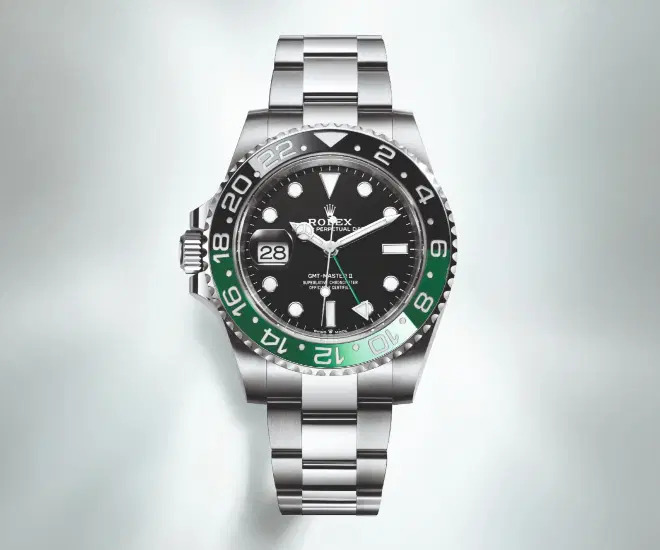 As we await the debut of new Rolex watches, we look back on one novelty we have not covered extensively: the Rolex Oyster Perpetual GMT-Master II "Lefty". Colloquially called everything from the aforementioned Lefty to Southpaw, the nicknames all revolve around every variation of left-handed that you can think of, for obvious reasons. Typically, watchmakers put crowns on the left side of the case, or at the 3 o'clock position, to be more precise; this is meant as recognition that most people are right-handed and will handle the crown with their right hands.
When the crown gets moved to the 9 o'clock position, it is then known (confusingly) as a left-hander, because it is meant for left-handed people, who will wear their watches on their right hands. When this new variant of the Oyster Perpetual GMT-Master II reference 126720VTN debuted, it was maddening because Rolex did not give it a special name — how in the world were we to address it and immediately identify it?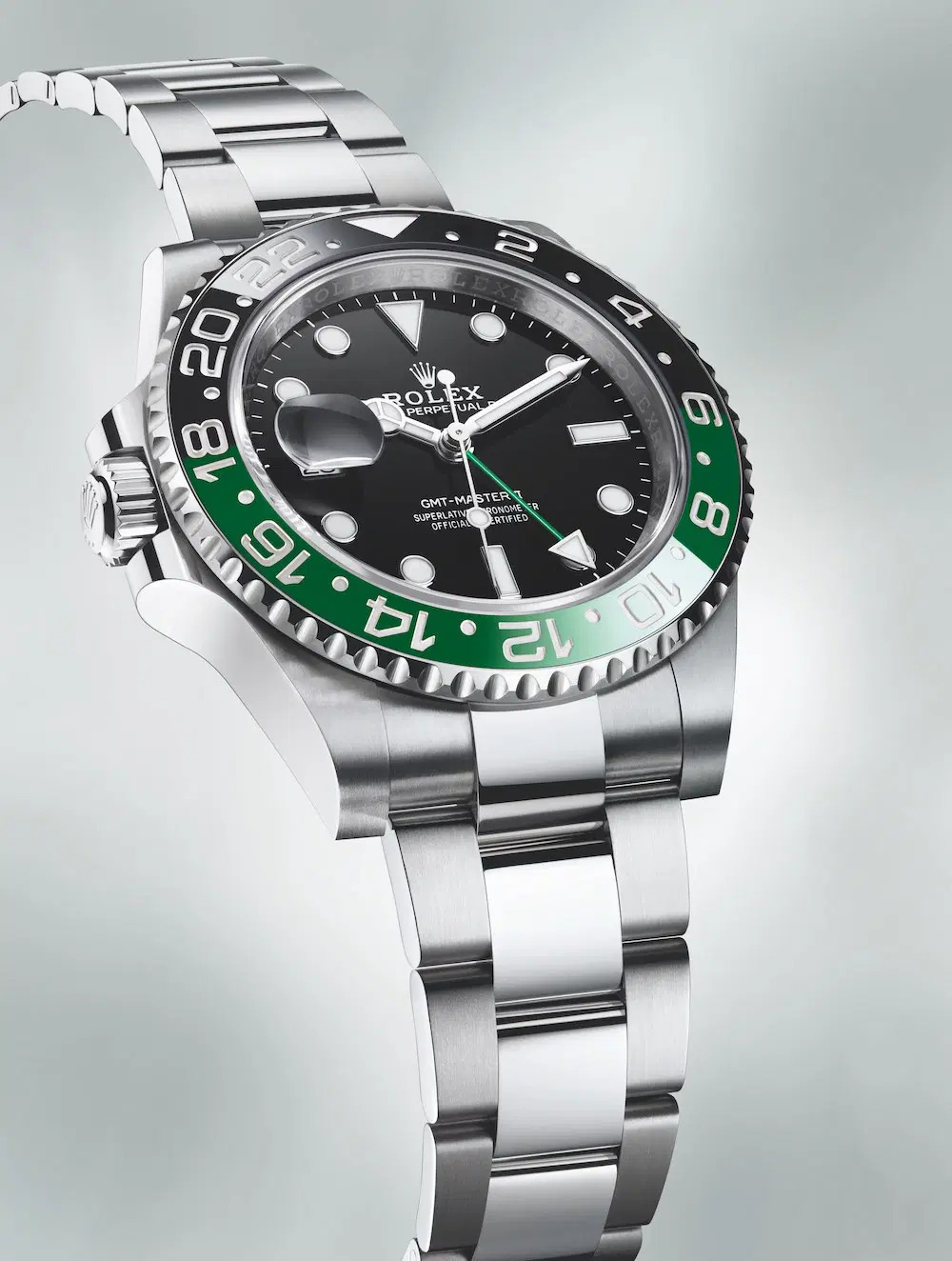 Oyster Perpetual GMT-Master II
 Of course, popular Rolex models all receive nicknames, sparing us the ordeal of getting the reference number right every single time. We call it the Lefty, and it not only features a crown in that 9 o'clock position, but the date too. Other new introductions here, as noted in our Watches and Wonders Geneva 2022 highlights story, include the green and black combination for the Cerachrom bezel (the characteristics of the bezel insert remain the same) and the green GMT hand. To our knowledge, Rolex has never used a green GMT hand so this will be of special note for collectors. Of those green elements, both look identical — it is the same green as used in the Rolex Oyster Perpetual Submariner variant.
Beneath the black dial (no change in specifications here from existing variants), there is more to discover. As has been noted too many times to cite, Rolex has introduced a new calibre here: the automatic calibre 3285. This is mainly in recognition of the fact that the keyless works and the date train have to move, given the characteristics of the Lefty; we imagine that the motion works (that is what moves the hour, GMT, minute and second hands) might have some minor changes as well, or at least how the motion works engages the date train.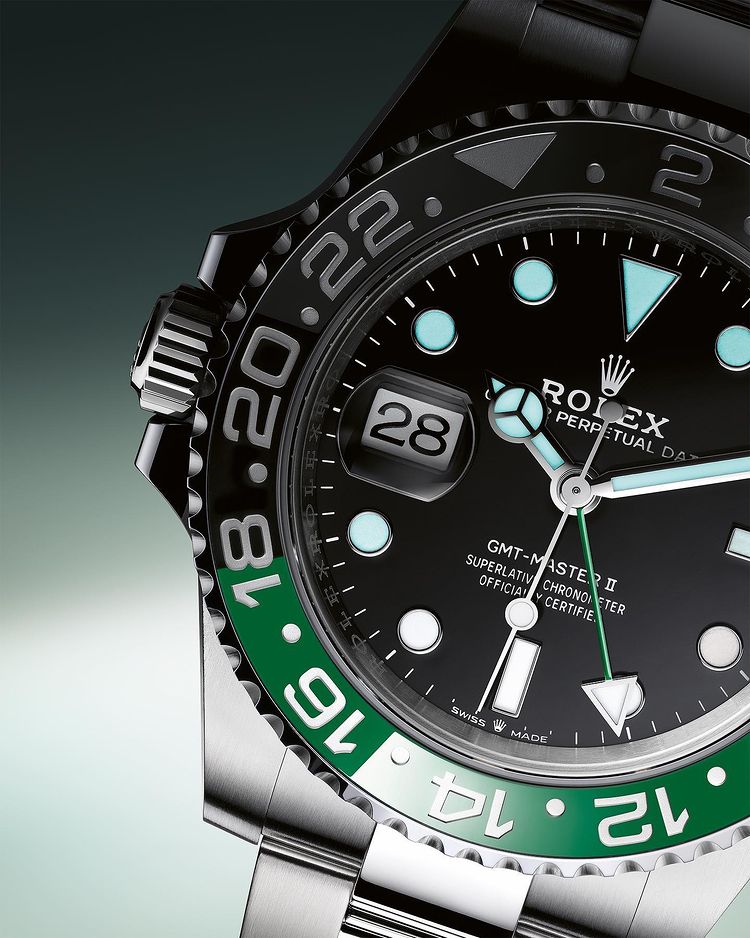 The above is a lot for Rolex to introduce in a movement that is basically just a variation on an existing engine. The GMT-Master II works the same way all GMT-Master II watches work. However, along with the altered user-experience and unique aesthetics, the calibre changes here will definitely make this a classic in the years to come. We already cast our vote for the Lefty as the most unexpected Rolex novelty of 2022. Most years, some of what is new from the Geneva giant of watchmaking can be predicted with a degree of certainty — not the Lefty. We wonder if more left-handers will follow…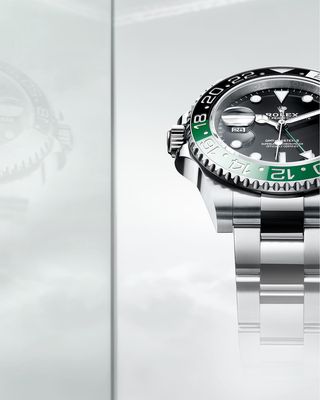 MOVEMENT Automatic calibre 3285 with GMT and date; 70-hour power reserve, approximately
CASE 40mm in Oystersteel; water-resistant to 100m
STRAP Oyster bracelet in Oystersteel
PRICE $15,650
---