---
Events
Discover the new Swarovski X Rosenthal Signum collection
Tanagra presents Swarovski's new tableware collection, bringing a fresh approach to modern living

Make space for Swarovski at the dining table: the Austrian brand's world of crystal grows with the launch of its new Signum Collection, created in partnership with world-renowned porcelain artisan, Rosenthal.
The collection was unveiled in Dubai earlier this month at a special tea party within the luxury confines of Park Hyatt Dubai hosted by Tanagra, the Middle East's key destination for luxury lifestyle, art de vivre and decorative pieces.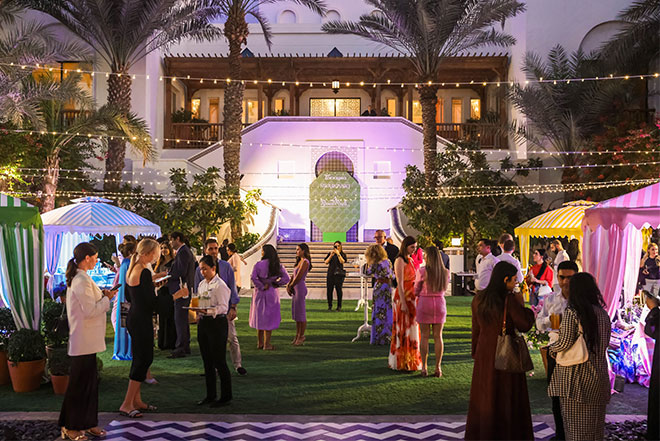 The tea party featured beautifully curated tents in the candy colours of the Signum collection: green, pink, yellow, and blue. Each tent was designed with a monochrome tablescape showcasing the Signum pieces alongside Swarovski jewellery and crystal ornaments, a whimsical display of candles, flowers, and intriguing objects, and delicious cakes and sweet treats.
With this new collection, artistry meets imagination. A fusion of porcelain and crystal is imagined in various vivid colours that deliver pure joy and celebrate the art of setting the table.
With the help of the porcelain experts from Rosenthal, Swarovski's Creative Director, Giovanna Engelbert, thoughtfully designed and developed each piece to highlight moments of joy while simultaneously showcasing the heritage and craftsmanship of two innovative brands.

"With this collection, we offer a new way of embellishing your daily life. Just like we are adorning ourselves with jewellery, we get the joy from decorating our lives through this whimsical yet elegant collection of porcelains that adorn our tables," states Giovanna Engelbert.
Using a translation of the brand's octagonal motif and signature colours, the collection offers a fresh approach to art, craftsmanship, and a sense of modern sophistication for the table.
Including tea sets, espresso sets, and full dining services, the versatility of this collaboration is further echoed by offering the opportunity to curate your own tablescape to radiate a sense of contemporary cool.
Shop the Signum collection at Tanagra, online and in stores. For more, follow @tanagrame
---