---
Watches & Jewellery / Watches
Jacob & Co. collaborates with French hypercar manufacturer Bugatti
The Bugatti Chiron watch from Jacob & Co. contains 418 rubies and a movement that mimics a car engine…

The astonishing engineering of a Bugatti hypercar has been condensed and reimagined to fit inside a unique watch measuring 55 millimetres.
Spending more than a year in development workshop, the Bugatti Chiron Tourbillon Baguette Ruby timepiece mimics the 16 cylinder engine of the fastest, most powerful car in the world, with more than 20 carats of rubies embellishing what is truly a mesmerising watch.
Inside the tonneau – or barrel-shaped – case lies a movement that recreates the Bugatti Chiron W16 engine, with shock absorbers, pistons, exhaust pipes, a crankshaft and a front grille that give the impression of a motor car.
The party piece of this extraordinary one-of-a-kind watch valued at approximately $1 million, is activated by the right crown which, when pushed, turns the crankshaft which then pumps the 16 pistons up and down inside the watch. Two turbochargers spin on either side of the engine in a highly complex and exposed movement that contains 578 components. The 41.7 millimetre movement appears to float but is in fact anchored in four places by objects that resemble automotive shock absorbers. In a cute graphic touch, the power reserve of the watch at 9 o'clock is indicated by a petrol pump symbol usually found on car dashboards.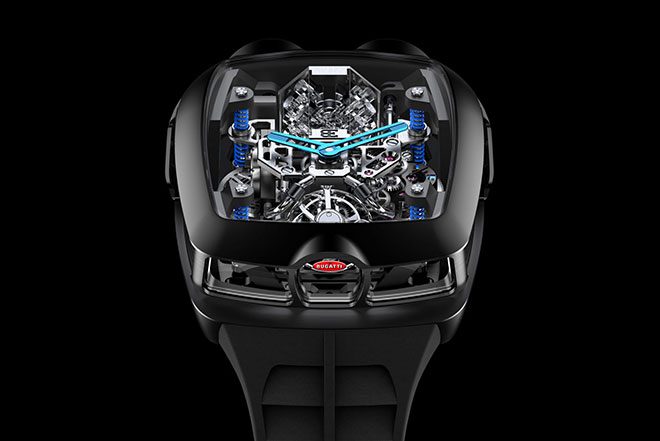 As well as watches, Jacob & Co. are renowned for exquisite pieces of jewellery and it was only to be expected that precious gems would find their way into this timepiece – 418 of them to be exact. Adorning the 18 carat gold case are 339 baguette rubies, while the crowns and pushers carry 60 of the red stones. There are a further 18 on the buckle of the sporty rubber strap and an all-important singular ruby placed on top of the tourbillon. In a groundbreaking first for Jacob & Co. the 60 second flying tourbillon is positioned at an incline of 30 degrees to allow better sight lines into the inner workings of the timepiece.
Bugatti has long been at the pinnacle of high performance motor engineering with its Veyron and Chiron cars leading the way for innovation, speed and design. Priced at approximately $3 million, the Bugatti Chiron upon which this watch is based, blends artistry and technology in much the same way as Jacob & Co. does in its workshop. The Italian car manufacturer began a partnership with Jacob & Co. in 2019 to produce unique timepieces that honour the spirit of both companies.
Founded in 1986 by Jacob Arabo, the ultra luxury jewellery and watch company specialises in pioneering pieces that push the boundaries. "My dream was always to invent things that have never been done before," said Arabo, who describes himself as a fearless trailblazer. With the Bugatti Chiron Tourbillon Baguette Ruby, Jacob & Co. have once again defied convention to produce something truly unique.
---